Artificial Intelligence (AI) | Data Management | automation | machine learning
The venerable template allows structured form data to be accurately extracted. In the document capture industry, the concept of templates where you specify the location of each data element is a tried-and-true strategy for structured forms. If the form is standardized, giving the software the precise place to look for data will almost always result in better performance over alternatives such as rules-based approaches using keywords or patterns. Even with unstructured data such as on invoices, we find that many organizations have opted for a template approach after finding that more flexible, rules-based approaches fall short. The result is a tremendous amount of upfront effort and a lot of maintenance.
Artificial Intelligence (AI) | Data Management | automation
Having your cake and eating it, too, is a proverb that's almost 500 years old, which means you cannot have two incompatible things at the same time. So many examples of situations exist where you face two mutually exclusive options. Let's take document capture. Document capture software is designed to automate document-oriented tasks such as sorting or extracting key data. In order to achieve that automation, you must spend time to configure the software to identify documents and reliably locate and extract that data with a high enough degree of accuracy that your staff need only be involved in verifying a small percentage of it.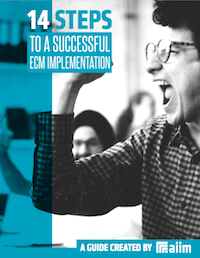 14 Steps to a Successful ECM Implementation
Making an ECM implementation successful requires planning and attention to detail. The best way to create the right solution is to identify organizational goals and priorities. Learn how to manage a successful implementation in our free guide.
We are barreling toward a future of automation. A great proportion of the six million US manufacturing jobs that have disappeared over the last few decades were lost as a direct result of automation's slow absorption of physical labor and factory work. Now the pace is quickening. Because of the rapid development of artificial intelligence, the reach of automation is expanding, too.
Compliance | Information Governance | automation | information security
As a preview to our upcoming multi-client market research report on the emerging intersection between information governance & security and analytics & machine learning, we asked 50 senior executives and decision-makers for their perspectives on five of the questions we'll be asking in our research (just a snapshot of the 20+ questions we'll be asking in the actual survey).
Artificial Intelligence (AI) | automation
Artificial intelligence has the ability to change our lives for the better. Increasingly, businesses are looking to automation to complete tasks in a more cost effective and efficient manner. Unfortunately, automation may lead to job loss. In fact, the finance, manufacturing, and service industries have already cut jobs due to automation.
Artificial Intelligence (AI) | automation | information security
In light of recent events, we can all agree that information security has been criminally overlooked on some major fronts across most industries. Absolutely mind-boggling attacks on major corporations like Sony, Yahoo and Equifax have consecrated InfoSec in the most frightening way possible. It is entirely possible that InfoSec had been given the resources it needed in those conditional circumstances but, given the unmitigated damage and lack of response, it is beyond fair to say that InfoSec may not have been a high priority. The benefit, if any, of these attacks is that they cemented the need for InfoSec in all businesses of all sizes.