content mangement | information chaos | intelligent information management
This is the third article in a series; the other two are: Surviving Disruption -- Strategies for the Era of AI and Machine Learning Looking at Information Management Through a Different Lens Digital Transformation effectiveness is imperiled by a rising tide of information chaos and confusion. AIIM believes that information is the currency that fuels an organization. As such, it is an organization's most important asset. But at the very time that information assets are increasingly important, our ability to manage them is eroding due to the exploding volumes, variety, complexity, and velocity of information coming into our organizations. Addressing "Big Content" and the rising tides of information chaos is a prerequisite to solving the Digital Transformation puzzle.
IBM | content management | information chaos | information governance
I was invited to attend the IBM Think 2018 event last week in Las Vegas. There were so many interesting aspects of the event, but most notable to me as someone who has attended multiple versions of this event over the years under multiple names (multiple event names, not my aliases) were: 1) the sheer scale of the event; and 2) the convergence of content and data.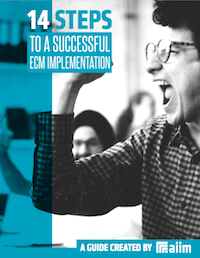 14 Steps to a Successful ECM Implementation
Making an ECM implementation successful requires planning and attention to detail. The best way to create the right solution is to identify organizational goals and priorities. Learn how to manage a successful implementation in our free guide.
digital transformation, | information chaos | kodak alaris
Many organizations are on some sort of Digital Transformation journey – or they should be. Everyone wants to "transform." But what exactly is Digital Transformation?
Industry statistics and research | content management | information chaos | information governance | records management | trends
It's almost Halloween. The time when scary things are on everyone's mind. And now, presenting here for the first time...drawn from a variety of AIIM market research studies...
capture | digital transformation, | information chaos | process management
Digital Transformation Roundup -- 6 Information Management Tip Sheets and 28 "Must Knows" You Don't Want to Miss In case you missed them while taking a few days off this summer, here are a few of my most popular tip sheets and posts from the summer. Check 'em out. 7 Tips to Create MORE Information Chaos There are lots of ways to being to attack the challenge of information chaos. But how might you inadvertently make things worse? 6 Things You Need to Know About Emerging Markets and Information Management Among both information management users and information management solution-providers, the digital disruption that is coming drives a number of opportunities and challenges. On the user side, organizations must extend their content and information management capabilities into new markets, and understand how those markets are different from the traditional markets they serve, and think through how those different needs translate into different content management infrastructure requirements. Similarly, content management solution providers have focused on established markets and economies. They will now face two pressures: 1) new "home-grown" content management competitors who really understand the unique issues of their home markets; and 2) pressures from their customer base to provide the tools they need to penetrate emerging market. 3 Reasons Why Document Processing Should Matter to the C-Suite Here's the fundamental question for many organizations – When it comes to streamlined document processing, why bother? What business results can you expect if you go down this path? Let's take a look at intelligent document recognition and streamlined document processing through the prism of the 3 things that keep C-level executives up at night: Cost, Compliance, and Customers. 4 Steps to Leverage What You Already Have and Know to Improve Customer Experiences Digital Disruption. Digital Experiences. They are on the wish list for just about every C-level executive. But where do you start? How do you move from the hype to value? A good place to start is by leveraging the capabilities you likely already have – scanning, capture, and the digital mailroom – and extending them into the core processes that you use to run your business. 5 Faces of Information Chaos For many years, I've watched people in organizations that I KNOW could benefit from content technologies politely listen to sales presentations, nod their heads and then back away from a decision. I find this "reluctance to commit" mysterious, because most of the people that I've spoken with who have automated a previously paper-driven process swear by the results and wouldn't return to life pre-content management for anything. I'm convinced that this "reluctance to commit" is due to the fact that many on the sell-side of our industry (including AIIM at times, I'll confess!) can't resist talking about technology. ECM! BPM! Taxonomies! Metadata! Capture! 3 Questions to Ask About Content Creation Content is a valuable corporate asset, driven by value, created by many authors, and generated from many sources. Yet content creation is often taken for granted by business organizations as something that just happens as part of the daily business routine. ----- You might also be interested in these 6 blog posts... 8 Reminders About Why World Paper Free Day Matters Digital Disruption and the Structure of Emerging Markets 7 Tips to Unstick Your SharePoint Implementation Big Data, Content Analytics, Information Capture and the Hype Curve Preparing for the Era of Intelligent Machines What Part of Being Blockbustered Don't You Understand? Digital Transformation In Action ----- In the Toronto, NY or DC metro areas? We've got a process improvement seminar coming up in your neighborhood! They're FREE. Washington DC event -- October 4 at the National Press Club New York event-- October 6 at the Manhattan Penthouse Toronto event -- October 13 at the Allstream Centre
content management | document management | information chaos
The possibilities for more information chaos surround us. Content is proliferating at geometric rates, and organizations and the people who work in them are struggling with massive amounts of information overload. The sheer volume of content and data entering our organizations is growing in complexity, volume, and variety. That would all be complicated enough on its own. But what are organizations doing – often with the best of intentions – to actually make things WORSE? Here are my top 7 tips to make things WORSE! I've put together a free tip sheet with the details -- check it out, and feel free to spread it around if you choose -- just click the button. Assume that your existing process platforms – like your ERP (Enterprise Resource Planning), Human Resource Information Systems or Accounts Payable system – can just handle everything. Assume your nephew can probably create the online forms you need because he is pretty good at technology. "Go paperless" by just using your copier to scan to a folder on a shared drive. Go cheap when it comes to getting outside expert help. Tackle ALL content and processes at once. Let IT handle this; business people don't have time. Allow "the business" to buy lots and lots of unconnected single application SaaS solutions. ----- In the Toronto, NY or DC metro areas? We've got a process improvement seminar coming up in your neighborhood! They're FREE. Washington DC event -- October 4 at the National Press Club New York event-- October 6 at the Manhattan Penthouse Toronto event -- October 13 at the Allstream Centre ----- You might also be interested in... Brexit, Presidential Campaign Follies, the Olympics and Disruption Déjà vu