AIIM on Air | Cloud | Mobile
The modern business ecosystem has changed considerably in just the past few years and with it have come some new challenges for the information professionals involved in storing, maintaining, and protecting it all. Managing business information has grown from something that was once limited and contained behind the corporate walls to something that's well…anywhere and everywhere! The rising demand for new devices, greater agility, and work beyond the corporate wall has given birth to a new wave of challenges, including:
Smartphones are now everywhere. It is estimated that 4.2 Billion people have a toothbrush, but 5.1 Billion people have a mobile phone subscription. They are always on, always improving, and always connected to the internet and to the cloud (unless you are an AT&T customer…)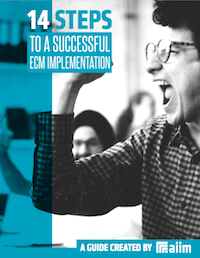 14 Steps to a Successful ECM Implementation
Making an ECM implementation successful requires planning and attention to detail. The best way to create the right solution is to identify organizational goals and priorities. Learn how to manage a successful implementation in our free guide.
Capture and Imaging | Mobile | Paperless Office
The twin drivers for change in the Enterprise Content Management (ECM) world are mobile and cloud. Mobile technologies unlock access to content on the move, capture to cloud, capture to process, remote workflows, and cloud-based collaboration. But, with any change comes new challenges. There are still many issues to resolve between traditional back-office systems and new cloud and mobile solutions like hybrid options. How is mobile changing how you capture and create process-based content? Let's take a look at what the data is telling us:
Technology changes what is possible. Every "age" has a feel, a zeitgeist. That zeitgeist is very much a function of the fact that every age has a defining technology. The age we are just now entering has four defining technologies – Social, Mobile, Analytics, & Cloud – the SMAC stack. The economics and ergonomics of experimentation have changed. It has never been easier – or more profitable – to do new things. To do new things require new modes of thought. That is why I advocate a "cognitive reboot."
Sometimes, buzzwords really ARE changing the world. The phrase "consumerization of IT" refers to the ubiquitous reality that the technology available OUTSIDE the enterprise is perceived as being more sophisticated, more user-friendly, delivered in a quicker time frame, and lower-cost than the technology INSIDE of the enterprise.
Intelligent Information Management (IIM) | Mobile
My story begins with this series of pictures, taken 27 years ago. At the time, this seemed like a cool idea for a Mother's Day gift, and maybe one that would begin a bit of a tradition.