cloud | intelligent information management | mobile | podcast
The modern business ecosystem has changed considerably in just the past few years and with it have come some new challenges for the information professionals involved in storing, maintaining, and protecting it all. Managing business information has grown from something that was once limited and contained behind the corporate walls to something that's well…anywhere and everywhere! The rising demand for new devices, greater agility, and work beyond the corporate wall has given birth to a new wave of challenges, including:
Smartphones are now everywhere. It is estimated that 4.2 Billion people have a toothbrush, but 5.1 Billion people have a mobile phone subscription. They are always on, always improving, and always connected to the internet and to the cloud (unless you are an AT&T customer…)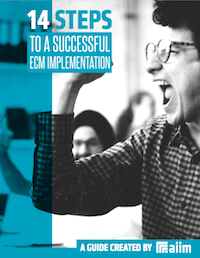 14 Steps to a Successful ECM Implementation
Making an ECM implementation successful requires planning and attention to detail. The best way to create the right solution is to identify organizational goals and priorities. Learn how to manage a successful implementation in our free guide.
content management | ecm | mobile
I've published a variety of articles on content management over the past few months, and thought I would gather a few of them here for those who may have missed them. Feel free to pass around the links. A number of the articles are based on the work that my colleagues Doug Miles and Bob Larrivee do on our Industry Watch market research reports. If you haven't seen these reports, check them out HERE. From Information Age -- 7 Ways to Improve Your Content Analytics From ECM Connection -- ECM: Gearing Up for a Much Bigger Race From the IoT Journal -- IoT & Cloud Are Transforming ECM From Econtent - Content Analytics Needs Strategic Direction to Fully Realize Potential From Digital Publishing Solutions -- ECM on a Path to Reinvention From BusinessSolutions -- Mobile Content is Getting Enterprise Attention From CTOVision - If Mobile Isn't on Your Radar it Should Be ----- 3 Things an IKEA Dresser can teach us about Content Management Here's a new white paper on Collaborative Workspaces – making information work simpler, smarter, safer, and faster
mobile | paper | process automation | social networking
I was a few weeks ago at a Winning the Paper Wars event in Portugal with IDC and PaperSoft, which reminded me of the importance of driving paper out of business processes. Below is basic maturity model for digital business.
collaboration | ecm | governance | mobile
As we start to think about #AIIM14, I thought I would ask a number of our sponsors a few identical questions and put them on a bit of a hot seat with regards to how they see the future -- and let attendees start thinking about your own questions to ask them in Orlando. Here are the three questions I'll ask: What are the three most important business problems related to Information Chaos facing YOUR customers? What do you see as the three most important trends related to Information Chaos facing organizations over the next 18-24 months? What will be different in our industry two years from now? What are the three most important things attendees should know about your company? Ali Moinuddin, CMO of Workshare, discusses the increasing VALUE of information; along with increasing volume and velocity.
aiim | aiim13 | aiim14 | bpm | content management | ecm | guy kawaski | mobile | process
AIIM Conference 2014 Call for Presentations - Now Open