document management | scanning
Companies are always looking for ways to make their workplace more productive and efficient and to reduce costs. Document management has an important part to play here. A survey conducted in 2012 showed that 21.3% of losses in employee productivity are due to paper-based documentation challenges that businesses go through. Converting your paper files into digital files via document scanning services can really help in alleviating the nuisance of managing paperwork at the office. While some documents do need to be printed, digitization can considerably increase your workplace productivity. With document scanning businesses, you can achieve superior efficiency, better systems for storage and retrieval and greater security controls. Let's take a deeper look into how digitization can prove to be beneficial for your business.
Digital business | business process | scanning
You have led the pack in creating a digital transformation strategy but how do you get your employees to engage and help your organization realize its goals? Embracing new technology is not the major challenge – human behavior is a significant factor in the success or failure of such projects. In this article, we look at 5 ways to change your employees behavior and drive digital transformation in your organization.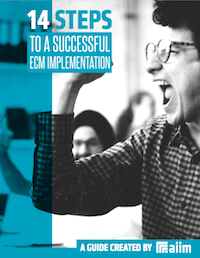 14 Steps to a Successful ECM Implementation
Making an ECM implementation successful requires planning and attention to detail. The best way to create the right solution is to identify organizational goals and priorities. Learn how to manage a successful implementation in our free guide.
compliance | healthcare | information capture | information security | retail | scanning
Organizations must focus strategically on how to manage digital content and understand that: 1) end-users are consuming technology differently; 2) consumer devices are being increasingly used as "on-ramps" to digital workflows; and 3) how you secure the scan and capture process becomes increasingly important. Let's explore how these concepts relate to two specific industries – healthcare and retail.
Digital business | business process | capture | gdpr | information capture | information security | privacy | scanning | security
A repository containing documents that were digitized inconsistently or inaccurately presents a new set of problems for an organization, problems that can hinder the productivity gains they had hoped to achieve.
content management | ecm | information capture | nuance | scanning | workflow
In a recent AIIM survey, we asked organizations a simple question:
capture | content management | digital transformation, | ecm | information capture | scanning
The reality for many organizations is that uncontrolled information – and especially paper -- still has a stranglehold on day-to-day activities. Many tasks requiring review and approval still require physical interactions with paper-based information. There is clearly room and opportunity for business organizations to maximize their information use and value as well as lower operating costs by removing paper from their business processes.