AI | Artificial Intelligence | big data | bigdata | content services
Seven (yes, seven!) years ago, AIIM published "The Big Data Balancing Act - Too much yin and not enough yang?" The author of the report was none other than Nuxeo's David Jones, who worked as a business analyst for AIIM at the time.
big data | bigdata | digital transformation,
Those who have been practicing Human resource management for years knows the importance of relying on data analytics for creating an enhanced work culture or else they might lag behind that of other departments. Many of you tend to hold the purse strings that HR deals with people, they do not require dealing with large-scale data efforts and have gone to the back of the queue as a result. With the ever-growing technology advancement, Human Resource professionals have started embracing the future: data analysis.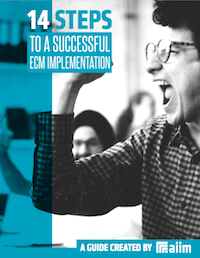 14 Steps to a Successful ECM Implementation
Making an ECM implementation successful requires planning and attention to detail. The best way to create the right solution is to identify organizational goals and priorities. Learn how to manage a successful implementation in our free guide.
big data | bigdata | digital transformation, | podcast
We have a small problem with Big Data...the majority of us just don't completely understand it. Sure, we've all heard the term "Big Data" - but I'm willing to bet if I asked a room full of people what it was, I'd get puzzled looks and shrugged shoulders from about half the room...and I'm sure I'd lose most of the other half of the room if I followed up that question by asking how to leverage big data for real business value.
aiim | big data | bigdata | content | content management | doug miles | ecm | industry watch | mancini
We've been fortunate to be part of some good press pieces in the past few weeks, and I thought I would share a few of them...(If you can, please socialize some of them...)
IBM | analytics | big data | bigdata | emc | sas | technology
There is a frenzy around big data today. But beneath the froth and the hype is this underlying and undeniable fact: big data will change the world. Companies – you – need to start looking beyond the hype and the technology to learn how you unlock your big data and put it to work for you. AIIM's work with the Executive Leadership Council is where you start. Key findings in this report include: considering the BUSINESS side of the big data equation teaming data scientists with information professionals embracing a new way of working striking the right balance between analysis and action for businesses