Information Management | co-authoring | oil and gas
Organizations today work with a great volume and variety of data. The trick is using that information in ways that improve the performance of the organization. One example is in the oil and gas industry where the stakes are extremely high; involving millions in revenue. Government approval for exploratory oil and gas rights are awarded to companies with the best technical application. The trouble is, assembling and authoring highly complex, high-value documents like exploratory proposals and regulatory submissions – which can often be thousands of pages – is a huge challenge.
File Shares | Information Management | co-authoring
Prior to becoming involved with the content and information management industry, I spent several years in the high-volume printing industry. I was a mid-level executive for a large health insurance provider and was responsible for printing and mailing, pre-press and offset printing, and electronic book publishing across four states. And let me tell you, my teams concentrated on output. Tons of it. Twenty four hours a day, 365 days of the year. Imagine stacks of paper everywhere and truckloads of output being shipped and mailed nationwide. This is in great contrast to today and my current involvement in the enterprise content management industry (now Intelligent Information Management) where our attention is largely focused on input...with much less focus on output. We aggressively capture data, input that information into advanced systems and databases, and then safeguard it with methodologies and teams designed to collect and protect information.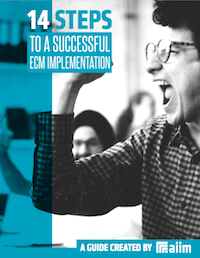 14 Steps to a Successful ECM Implementation
Making an ECM implementation successful requires planning and attention to detail. The best way to create the right solution is to identify organizational goals and priorities. Learn how to manage a successful implementation in our free guide.
Collaboration | File Shares | Information Management | co-authoring
It's warm greetings from sunny San Diego on this episode of the AIIM on Air podcast! Your host Kevin Craine comes to you from The AIIM Conference 2019 floor with a series of interviews from the hallways, sessions, and even poolside at the Conference Party (if you listen closely, you can hear the party's Beach Boys cover band in the background).