Capture and Imaging | Document Management
Companies are always looking for ways to make their workplace more productive and efficient and to reduce costs. Document management has an important role to play here.
No matter what industry you are in, audits are stressful. Many of your company's processes and documents must be analyzed to make sure you are compliant and up to standard. That means the auditor is going to need to see a lot of paperwork. If you currently use filing cabinets, inboxes, and hard drives to store your documents, then an audit is likely your worst nightmare. Luckily, there is a better way. With a document control software, you no longer have to stress when it's time for an audit. All your information can be stored within one comprehensive system that allows your data to be tracked, stored, indexed, and searched. Here is a look at six ways a document management system can help your company get organized and ready for your next audit: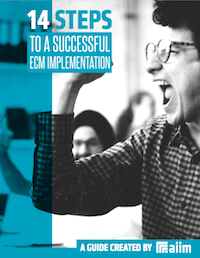 14 Steps to a Successful ECM Implementation
Making an ECM implementation successful requires planning and attention to detail. The best way to create the right solution is to identify organizational goals and priorities. Learn how to manage a successful implementation in our free guide.
Artificial Intelligence (AI) | Automation | Document Management
Having your cake and eating it, too, is a proverb that's almost 500 years old, which means you cannot have two incompatible things at the same time. So many examples of situations exist where you face two mutually exclusive options. Let's take document capture. Document capture software is designed to automate document-oriented tasks such as sorting or extracting key data. In order to achieve that automation, you must spend time to configure the software to identify documents and reliably locate and extract that data with a high enough degree of accuracy that your staff need only be involved in verifying a small percentage of it.
Document Management | Electronic Records Management (ERM) | Enterprise Content Management (ECM) | Information Security
Too often, we look at documents as just pieces of paper or digital files that contain information. We often forget to consider the value of that document. Some documents are assigned value based on time to write (like a very large document) or potential fines if done wrong (like a regulatory or compliance document). But every document has some value.
Data Management | Document Management | Enterprise Content Management (ECM)
Since the 1980s, relational databases have been used to store business information. They were a huge step forward over hierarchical databases, which organized data into rigid tree-like structures with connections between data elements defined by the links in the structures.
AIIM Community | Document Management | Enterprise Content Management (ECM)
Well, the other shoe called Documentum dropped (haha - wrote this lead before finding Cheryl's post below) that everyone was expecting once Dell and EMC got together. And in somewhat record speed. AIIM does not take positions on things like acquisitions, but obviously, the extended AIIM community is buzzing about this. I thought I would find as many articles as I could and put them in one place and let folks form their own opinions. If I've missed any, just put this link in the comments section, and I'll add the link to the original article.