Automation | Document Management | Human Resources
It is the best of times and the worst of times for HR professionals. Many organizations have reaped enormous benefits from more effectively managing the unstructured information association with core Human Resources processes. That's the good news. The bad news is that MOST organizations have not yet moved down the path of HR automation, creating massive inefficiencies and risks in their hiring, retaining, employee servicing, and firing practices.
Document Management | Enterprise Content Management (ECM) | Intelligent Information Management (IIM)
The possibilities for more information chaos surround us. Content is proliferating at geometric rates, and organizations and the people who work in them are struggling with massive amounts of information overload. The sheer volume of content and data entering our organizations is growing in complexity, volume, and variety.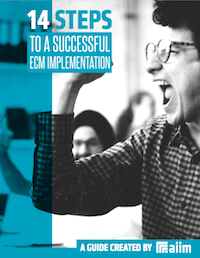 14 Steps to a Successful ECM Implementation
Making an ECM implementation successful requires planning and attention to detail. The best way to create the right solution is to identify organizational goals and priorities. Learn how to manage a successful implementation in our free guide.
Kudos to my friend Bob Zagami for bringing this to my attention from the editor of the RV Daily Report, Greg Gerber. RV Daily Report Changes Press Release Publishing Policy Organizations constantly struggle with the question of not only the volume of content and documents they are managing but amidst this chaos; they also wrestle with the question of "what is truth?" Or, in more practical terms, what is the "official" version, who has approved it, and how can we track the chain of custody and modifications throughout the life cycle of a document?
AIIM Community | Document Management
I thought I'd summarize some of the press I see about the iManage spinout from HP. If you come across other updates, feel free to enter them in the comments. I have to admit from the perspective of an association that relies on independent companies as members; I'm kind of glad to see the acquisition pendulum go in the other direction for a change. We don't take official positions on these types of things, but it does seem to be a win/win for both HP and iManage.
Going back a few years, I used this chart from Geoffrey Moore from Dealing With Darwin – internally, we call it the two-humped camel jpeg -- to talk about some of the changes occurring in the enterprise IT space, and more specifically, in the content management space.
Automation | Document Management
All organizations produce documents, some even hundreds or thousands a day. Information contained in these documents is often vital to business – from producing sales quotations, policy, and procedure documents to employment or legal contracts. While some content in these documents will change, other aspects, such as its structure and how it is formatted, may not. In other words, many documents contain repetitive content that changes little from one document to the next and variable content that must be accurately personalized. Document automation can streamline the creation of the simplest or most complex corporate document, but many companies are confused by how it works. Below are five myths organizations need to think about when considering how they handle document creation.