AIIM on Air | Electronic Records Management (ERM) | Sharepoint and Office 365
This week brings another great episode of AIIM On Air, where we continue to explore the challenges, opportunities, and technologies that are driving digital transformation today.
AIIM on Air | Electronic Records Management (ERM)
We're packing in the fun with this month's podcast episode by exploring 3 important intelligent information management topics. First, we ask - What's it like to be a Records Officer at a major college or university? To find out, we talked to Samara Carter, Records Officer at George Mason University who joins us for another AIIM Member Spotlight interview. She stops by the show to share what it's like to work in records at George Mason, the biggest information challenges she's working on right now, and her thoughts on being an AIIM member.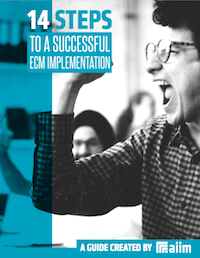 14 Steps to a Successful ECM Implementation
Making an ECM implementation successful requires planning and attention to detail. The best way to create the right solution is to identify organizational goals and priorities. Learn how to manage a successful implementation in our free guide.
AIIM Conference | Electronic Records Management (ERM)
The success of any project relies on involving stakeholders early on and keeping them properly informed throughout. A systems development project is no different. If you want the systems that you build, buy, and develop to properly manage information assets across the life cycle, then you have to leverage the knowledge of your RIM team.
AIIM Conference | Electronic Records Management (ERM)
There are many ways to learn beyond the traditional training course. I believe that one of the very best opportunities to learn comes from attending a conference. The sessions at most conferences are generally very good, but there is a bigger benefit for me. That's the opportunity to learn from my peers and colleagues, especially those from disciplines or industries I have less exposure to. It's those conversations in the halls between sessions, during the lunch break, or after hours at the karaoke bar that can often provide new insights or new ways of looking at things.
Electronic Records Management (ERM) | Information Security
Only 3 of the worst 10 data breaches of all time happened in 2019, but it was still not a good year for data security. According to CNet, the primary culprit was "unsecured database." However, one significant contributing factor in many of them was that organizations collected and retained data they generally didn't need – and if they did, they didn't need to retain it as long as they had.
Electronic Records Management (ERM)
In a couple of recent blog posts, we've talked about important skills every modern records manager must have right now and the best certifications for records managers. This leads to a logical question – how does a records manager get there? Where do you start?