Automation | Business Process Management (BPM) | Enterprise Content Management (ECM)
Information is cascading down upon every organization in unprecedented volumes and forms, challenging traditional and manual concepts of records management and information stewardship. This information tsunami is happening at the very time that the process value of these digital assets is more mission-critical than ever.
CRM | Enterprise Content Management (ECM)
Every organization wants to increase agility and productivity by extracting maximum value from its processes and content. Organizations need to bridge the silos created by disparate lead applications to seamlessly pull structured and unstructured information together and present the whole story to the customer relationship management (CRM) users who need it. Easy access to documents and content is a key requirement in fully leveraging a CRM system. 95% of CRM users want easy access to the latest version of their files and documents, and 55% of CRM customers see "ease of use" as the most important feature.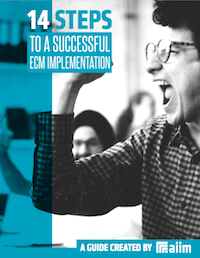 14 Steps to a Successful ECM Implementation
Making an ECM implementation successful requires planning and attention to detail. The best way to create the right solution is to identify organizational goals and priorities. Learn how to manage a successful implementation in our free guide.
Enterprise Content Management (ECM) | Enterprise Resource Planning (ERP)
Are your Human Resources processes intelligent? Before you try and answer that, let me explain more about what I mean. This idea of intelligent processes stems from an evolving set of capabilities that transform the way we manage information into something smarter and more connected than ever before. AIIM calls this Intelligent Information Management - and we believe it has the power to revamp your business processes, including Human Capital Management (HCM).
Enterprise Content Management (ECM)
Enterprise Content Management (ECM) is a systematic approach to capture, manage, store, preserve, and deliver information related to business processes. So if it is related to business processes, especially to core business processes, it must be considered key for any organization.
Enterprise Content Management (ECM)
Finding the right information quickly is an imperative function for all organizations, yet 75% of AIIM respondents said this is a challenge for them at work. One main cause is the overwhelming amount of costly legacy information systems and technologies that are difficult to modernize or connect to one another to make useful. Sound familiar?
Enterprise Content Management (ECM)
While "technical debt" is a term that's frequently used by technologists, the implication and understanding of it tend to be opaque to the business until it's too late - just look at how Nokia lost the mobile market that it helped create. The business and finance side of Nokia had the usual tools for assessing financial risks - but why do we not have an equivalent tool for the operational or existential risks when the debts come from the more intangible investment in technology?