Project Planning | project management
Skilled project managers are the glue that keeps your team together. Without the shrewd judgment of an experienced project leader, your team is doomed to wander aimlessly from objective to objective with lowering morale, rising costs, and mounting hurdles.
Project Planning | agile | project management
A great project development team can only be great with the right tools. Through the numerous project management methodologies and top-down inferences, there is one constant; management tools. Even the best managers can't work efficiently without them. They range from the micro to the macro and cover all of the aspects of a project's lifecycle. They create an atmosphere of greater cooperation and productivity. This makes them even more valuable to the heads. All leaders want effective teams and all effective teams use project management tools. In this article, we are going to cover some of the very best tools on the market today.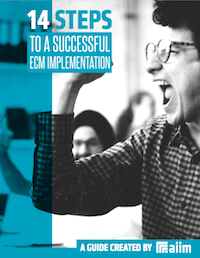 14 Steps to a Successful ECM Implementation
Making an ECM implementation successful requires planning and attention to detail. The best way to create the right solution is to identify organizational goals and priorities. Learn how to manage a successful implementation in our free guide.
Project Planning | agile | project management
Agile companies are ambitious. Agile teams seek to reach new heights by employing an iterative approach. While agile project management is an extremely popular project management framework, it's not wholly understood. More importantly, misusing the methodology can spell disasters for teams. Agile organizations have to be careful especially when hiring promising project managers to lead a new team. Here are 5 project management mistakes agile organizations should avoid at all costs:
Project management often involves working in high stress environments with tight deadlines and multiple competing priorities. The most successful Project Managers learn how to navigate these environments and often have a strong understanding of their own shortcomings and the strengths of their team.
certified information professional | cip | ecm | electronic records management | enterprise content management | information management | project management
As part of our Certified Information Professional Spotlight series, I chatted with Baba Majekodunmi, Business Analyst for Payment Products & Service at Pentagon Federal Credit Union, for his story on becoming a CIP.
AIIM17 | aiim conference | information | project management
In my current role as Manager of Records Services at the Atlanta Housing Authority (AHA), I am responsible for overseeing the day-to-day operations of the records management and archives section of the agency. In addition, I serve as the Product Owner for our Document Management Automation Squared (DMA2) project. Our DMA2 project encompasses many aspects of electronic records management, including: providing new SharePoint sites, selected migration of records from old SharePoint sites and shared drives, classification and disposition of electronic records in these repositories, deduplication of records, and training and outreach.