Project Planning | collaboration | project management
Sometimes a little too much of a good thing can be a bad thing. An overabundance of motivation can lead to stress, fatigue, and burnout. According to the Harvard Business Review, the majority of managers now spend over 85% of their work time checking emails, checking up on meetings, connecting with people over the phone, and checking their phones for important, work-related updates. This is a staggering 50% jump in just a decade's time. Clearly, we need better ways to manage time.
digital disruption | project management
As a project manager that specializes in digital software products, I will let you in on a secret about a new role, a new type of person that is emerging in the ranks—and it's all good news for your project. This particular role actually inspired this series of articles about new roles that were emerging in the project life cycle due to digital disruption. The previous articles in this series are: The Servant Leader, Team Doctor, Technically-Comfortable Agile Project Manager The Connected, Inspired, Hands-on Project Sponsor – Leading the Digital Charge The Emergence of the Elusive Digital Unicorn As a project sponsor or agile project manager, you should definitely be on the lookout for this person, because if you can find them and secure them for your team, you will have given yourself a much-needed advantage in ensuring you ship a quality product. The person is the new type of QA engineer.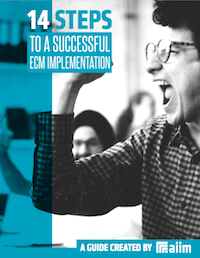 14 Steps to a Successful ECM Implementation
Making an ECM implementation successful requires planning and attention to detail. The best way to create the right solution is to identify organizational goals and priorities. Learn how to manage a successful implementation in our free guide.
digital disruption | project management
"Ideas are a commodity. Execution of them is not"-Michael Dell.
Project Planning | project management
Skilled project managers are the glue that keeps your team together. Without the shrewd judgment of an experienced project leader, your team is doomed to wander aimlessly from objective to objective with lowering morale, rising costs, and mounting hurdles.
Project Planning | agile | project management
A great project development team can only be great with the right tools. Through the numerous project management methodologies and top-down inferences, there is one constant; management tools. Even the best managers can't work efficiently without them. They range from the micro to the macro and cover all of the aspects of a project's lifecycle. They create an atmosphere of greater cooperation and productivity. This makes them even more valuable to the heads. All leaders want effective teams and all effective teams use project management tools. In this article, we are going to cover some of the very best tools on the market today.
Project Planning | agile | project management
Agile companies are ambitious. Agile teams seek to reach new heights by employing an iterative approach. While agile project management is an extremely popular project management framework, it's not wholly understood. More importantly, misusing the methodology can spell disasters for teams. Agile organizations have to be careful especially when hiring promising project managers to lead a new team. Here are 5 project management mistakes agile organizations should avoid at all costs: